SEO CASE STUDY 1
Local SEO Case Study 1
Proven SEO Results for Local Service Business Geographically Based
Background
All We Do Is Decks is a successful business specialising in deck and patio building in Brisbane.  It is a family run business having been in operation for close to 11 years.  Business growth and leads mostly came through word of mouth referrals.
When I started SEO work for the owners of All We Do Is Decks I was given an attractive WordPress website with good content on about 5 pages and great images.  This provided a very good base with which to commence SEO.
Successful SEO Results
I started work on this website in early March 2015 using the SEO techniques that are most effective for ranking local service businesses.
The results for this website were outstanding and it is the best performing website that I have worked on and is a perfect illustration of how proven SEO results can transform a business. Within 6 weeks this website was ranking on Page 1 of Google for four major search terms.
Prior to SEO the website was ranking at best on Page4 and at worst ranking beyond Page 10.
Table: Major Keyword Rankings Prior to SEO and within 6 Weeks of SEO

The increase in traffic to this website within this 6 week period was not really sufficient to generate a large increase in business leads for the website owners.  Thus whilst being on Page 1 of Google it was necessary to increase his ranking to the top three positions on Page 1 of Google.
Within another 4 weeks this was achieved and the owners of the business experienced a significant increase in business leads from their website.  This was within a total of 10 weeks from the time SEO started.
Table: Keyword Ranking Prior to SEO, within 6 Weeks of SEO and within 10 Weeks of SEO

Growth in traffic continues to the current time and will continue too in the future.
The graph below shows you how the organic traffic has grown for this website. The owner of the business has just recently informed me that he has jobs fully booked now right up to Christmas.  This achievement can only be partly attributed to increased leads coming from the owners' website.  The conversion of the leads into actual work and customers is  achieved through the owners of the business, their professionalism and the high quality of the work that they do and the excellent service that they provide their customers.
Graph Showing Ranking Growth from Start of SEO in March 2015 to end of August 2015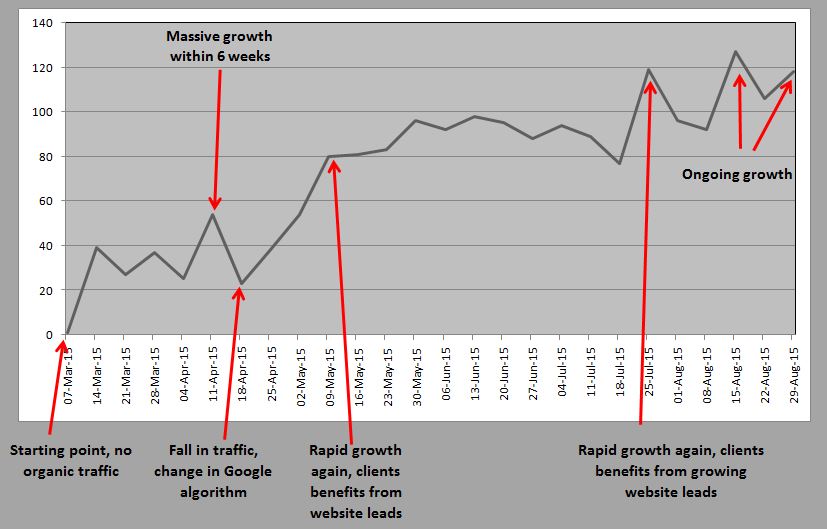 The website is now ranking high on the first page of Google for all the major search terms and many minor terms as well.  All in all, this is an excellent local SEO case study with proven SEO results, having achieved 1st Page ranking for All We Do Is Decks which has resulted in a large increase in business for the deck specialist business.
Table: Keyword Ranking Prior to SEO and Ranking Middle of August 2015

FYI there are more examples of proven SEO results through other successful SEO case studies of Through The Rank's clients.