SEO CASE STUDY 2
Update 28 August 2017
All the information below is 100% accurate at time of writing which was 28 January 2015.  However since that time, once the SEO goals had achieved and the business highly successful the amount of SEO work done was negligible.  With little SEO work done over a period of one to almost two years the rankings of this website have fallen.  The rankings are still high, maintaining the 1st position for Mac Repairs Brisbane, but now in the 2nd position for Laptop Repairs Brisbane and 3rd position for Computer Repairs Brisbane.  SEO is now being implemented regularly and these positions are holding.  The business is still performing extremely well, but if falls had continued the impact would have been far more significant.
SEO Case Study – Small Business SEO
Business : Affordable Computer Repairs and Service
http://affordablecomputerrepairs.com.au/
Background 
The business had been in operation for about six months prior to SEO commencing and was relying on advertising in the local newspaper.  It is a small computer repair business based in Brisbane providing Mac, Laptop and Computer Repairs and IT Services to Brisbane residents and small businesses.
I commenced SEO on the existing website in June 2013 in conjunction with Fruitful Online.  The website was not generating any leads at that time and had been active for some months already.
Successful SEO Results
With successful SEO techniques the business went from obtaining around one to repair jobs a week to three to four a day and is now a very successful business having now engaged a subcontractor to assist with the volume of work.
This business is listed in the top three Google Organic results for all the major search results for a computer repair business in Brisbane:-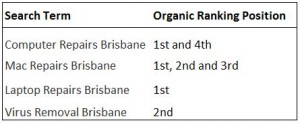 The graph below shows you how the traffic grew to the site once SEO techniques were employed.  The graph below shows six months of traffic commencing from the end of July through to the end of January.  The light blue line shows traffic generated by SEO.  The orange line is clicks (visitors) on the site generated by Google AdWords and the blue line is the total number of site visitors.

This business no longer has the expense of advertising in the local paper, using Google AdWords or any other marketing beyond a small amount of SEO that is done each month in order to maintain the excellent organic Google rankings.  As can be seem from the website image below this small business has through successful SEO achieved a listing in Google above the major computer repair chain Geeks2U.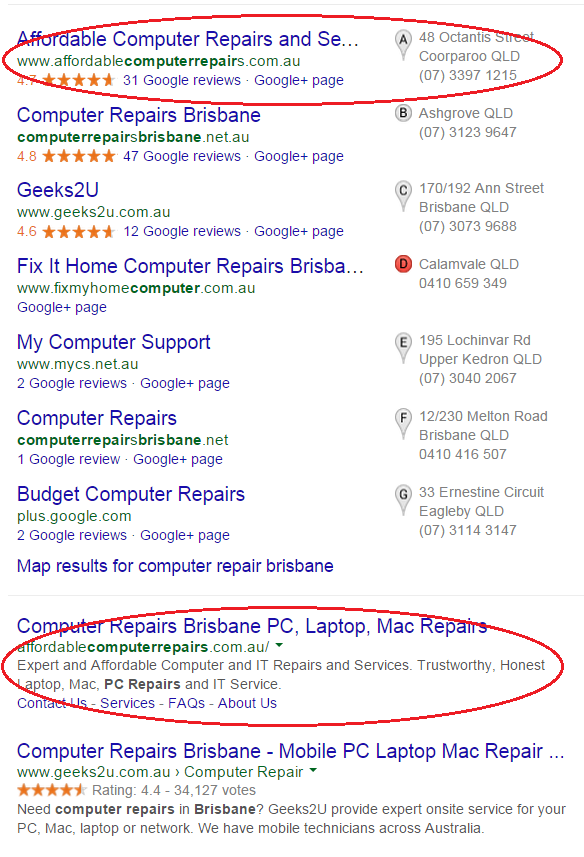 The website went from no visitors in June 2013 to around 30 searches a day by the end of December 2013 – within 7 months.
As can be seen from the graph the business is still obtaining a growing number of of website clicks.
The blue line is information for 2014 and the orange line is the number of visitors to the website the year before, 2013.
Even more telling is the actual number of visitors comparing 2014 to 2013.  The number of visits to the website for 5 months ending in December each year grew by almost 500% when comparing to the same time period the previous year.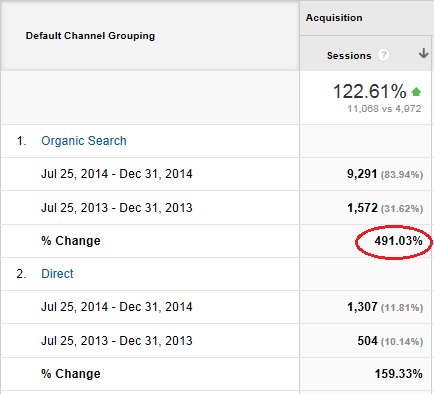 So the site had no visitors at all at the beginning of the SEO work in June 2013 and now averages around 70 customers clicking on the website each day.  And it is still growing.
Through The Ranks – SEO Case Study
Unfortunately I cannot promise that your business will have such great success in such a short period.  The results are largely determined by the competition within your industry (it is to be acknowledged that the computer repair industry is highly competitive in terms of SEO investment), the amount of work that is undertaken as regards to SEO for your website as well as time for Google to respond to the work that has been done.
What I do promise is absolute determination to build your business through experienced and successful SEO techniques and skills.  My goal would be to reproduce the results that I obtained as outlined in this case study, however there are certain things that are out of my hands.  For example, Google prefers older websites as they are seen as more reliable as demonstrated by the fact that they have been in business for some time.  Thus with new websites, even with expert SEO and even with a high SEO budget, successful search engine optimisation always takes time.
With me (Karen Thorogood) you are not bound by a contract when you engage my services, and thus if circumstances change or you feel that the results that are being achieved for you are not happening quick enough, you are welcome to inform me that you no longer wish to engage my services.  I do ask as a courtesy that you inform me towards the end of the month to give us some notice of your plans.
I am also very flexible regarding the amount of money you wish to spend on SEO.  So if the results you obtain from me each month in a written report show that your money is being well spent on SEO, you can if you wish engage additional hours with the aim being to rank quicker.
If you have any questions regarding this case study or my services please give me (Karen) a call (0411 403 511) and I will be more than happy to answer your questions.