Sunday, March 20, 2016
by
KarenThorogood
Looking to Remove a Google My Business Negative Review?
Overview
There is not much good news for businesses that have received a Google My Business negative review or multiple negative reviews on their Google My Business Page. This is especially true if your Google My Business negative review is a featured review.
Information Provided by this Article on Google My Business Negative Reviews
This article provides you with the basic information on what to do if you receive a negative Google My Business (GMB) review.  It also provides more detailed information regarding more desperate measures and also the implications of obtaining Google My Business negative reviews.
Aside One
Google My Business was previously known as Google Plus (Google+), Google Places, Google Local Business pages and is now also includes what is known as Google Maps for Businesses. I have used these terms interchangeably through this article for people still searching for help for Google Plus negative reviews, Google Places negative reviews and so on.
Aside Two
Customer reviews are a great way for us all to evaluate whether a business is a good or bad business. However all businesses know that it is impossible to satisfy each and every single customer – and that some customers are really customers that you would prefer not to have.  Often too these these customers sometimes leave negative reviews that we believe are unfounded.  This happens to all businesses.  A negative review can in some instances be turned into a positive if replied to in the right manner.
There are however occasions when sometimes unwarranted reviews can be very detrimental to a business.  In this case you may wish to have the review removed or demoted from the search engine results.  This article has been written for those businesses in this position.  I hope that the information provided here will save you some of the time that I spent looking in great detail into this matter.
General Information Regarding Google Places Negative Reviews
GMB can be a great opportunity to showcase your business.  However obtaining multiple or even a single or Google My Business negative review can be problematic.
What can you do if you obtain a Google Plus or Google My Business Negative Review
Respond to a Negative Google+ Review
With Google Plus or GMB you do have the option to reply to a negative review and this is recommended. When replying please do remember that your reply will be read by potential customers of yours.  Thus you should not rant and rave, a short succinct reply is best.  It is also good to apologise if applicable and to offer to help rectify the problem.  Here are some guides from Google My Business on how to reply to negative reviews.
Flag an Inappropriate a Google My Business Negative Review
If you believe that your Google Places negative review is unwarranted you can flag the review.  This sends through a request for its removal and it will be reviewed by GMB.  However, unless the review complies with the GMB review removal guidelines it is unlikely that it will be removed.
Potential Implications of a Negative Google Plus Review
It's great if you have lots of great reviews and a high star rating, but the implications of just one negative review can be quite severe. This is most particularly true when your negative Google review is a featured Google My Business review as described below.
Featured Google My Business Negative Review
Take this client of mine, he has a 4.7 star rating with 15 Google Reviews, breakdown as follows:-
One negative 2 star review.
Twelve 5 star reviews.
Two 4 star reviews.
Now whenever a potential customer searches for this business typing in the business name or clicking on the GMB page they are shown three featured reviews.  And for this client the middle review is his one negative review, and the wording is oh, so bad….
I don't want any readers of this blog to think that this client provides a poor service.  he does not as his 4.7 star profile indicates.  So the image below is not of his business but of another business in a similar situation.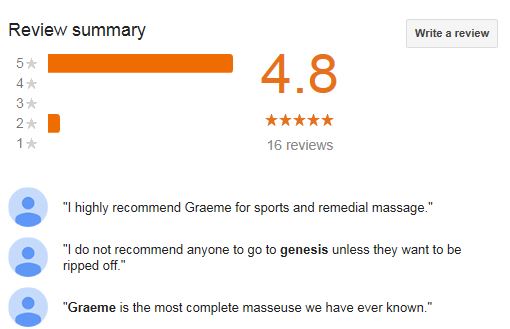 How are Featured GMB Reviews Chosen?
As said, GMB now displays three featured reviews.  I have told me that they have no control over which reviews are shown as featured.  I have spent some time surfing on the net and I cannot either determine why specific reviews are shown as features.  I have looked at:
Length of review.
Whether reviews have been replied to or not.
Date of reviews.
Content of reviews.
And I can't find a common denominator.
Have a Look at the Review Profiles and Featured Reviews of these Businesses
I have selected these review profiles for different businesses on Google as they show to me atleast that there is no particular reason why featured reviews are chosen. Thus many of the businesses below have poorer review profiles than the one I previously showed and yet their display reviews are only positive…?  If anyone reading this article can provide me with some information as to how featured reviews are selected I would be eternally grateful!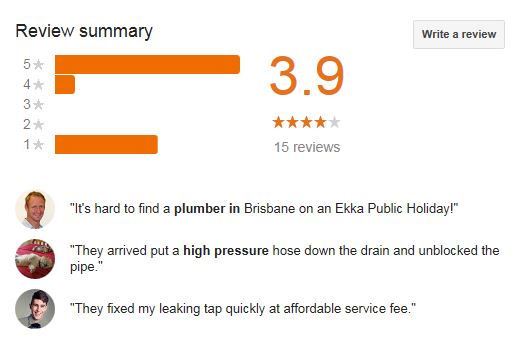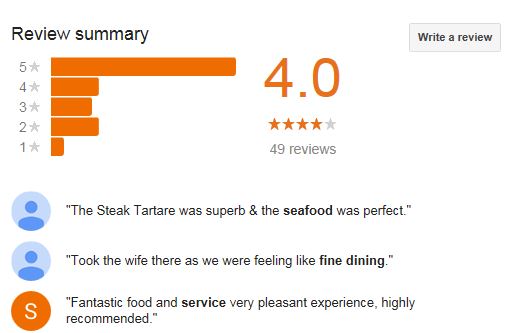 Desperate Measures If you have a Negative GMB Review
If your Google Places negative business review is there to stay as it does not conform to the guidelines for review removal – and if this review is featured or you feel it is really, really detrimental to your business there are desperate measures that you can take.  however these desperate measures are unlikely to be successful as described below.
Delete your Google Plus Page
One would have thought (I did) that deleting the GMB page would remove this listing from Google and thus both the negative and positive and all business information. Unfortunately this is not what is going to happen.  If you delete the page the information will still be displayed in the organic search results.  Thus when your business name is typed in, the same information will be shown as it would be if you had not deleted the page.
The only difference is that you will no longer be able to reply to reviews.  This is not a solution for you.  Furthermore your customers will still be able to continue to write reviews on this page.
Delete your Page and Activate a New Google My Business Page
There is the possibility that this might resolve your problem, however there are no guarantees.  According to the advice I have been given your original page will still be shown until such time that your new GMB page has stronger 'page power' than your original page.  This could take months or even longer, no time frame is given.
Thus for this desperate measure you need to be extremely active on your new GMB page. Obtain lots and lots of reviews (hopefully not negative ones this time or it would be pointless).  Reply to reviews and do all the other suggestions that Google provides to increase the value of this page.  During this time too you can just hope that customers don't add reviews to the original page which is still showing.  Should this happen it will just continue to increase the greater power of that page and extend the time before your new Google+ (or GMB) page shows.
I do not recommend this measure as it is against guidelines to have multiple Google My Business or Google Local pages… So this may apply even if you have deleted one of these pages and activated a new one.
Mark your Business As Closed
Unfortunately the results for this are the same as for deleting your Google My Business page. Your Google Places page will still show in the results.  Furthermore the reviews will still show and now people will also think that your business is closed… Definitely not a solution.  I have though seen on the net that businesses have resorted to this with the results as described.
Removing a Negative Review from the Featured Reviews
As described above in the section you may end up with a negative review as one of the featured reviews even if you have as little as one negative review.
As I could not find rhyme or reason for the selection of the featured review the only potential solution to this is to obtain new reviews.  I say potential solution because I do not know if this will work.  I have been advised that when a new review is posted the featured reviews will be 'resorted' and possibly new or different featured reviews will be displayed.  I have not tested this as yet.  I am hopeful that when 'new featured reviews' are displayed it is the negative review that is removed from the features list.  However as I have been unable to determine which reviews are selected as featured it could be that the negative review is still displayed along with possibly other changed featured reviews.
Also even if this does work, I do not know how long the new results (hopefully without the negative featured review) will last. Thus if the reviews are 'sorted' each time a new review is obtained and new featured reviews are shown, it could be that the negative review is again sometime in the future becomes a featured review once more.
I am currently testing this with a client collecting more reviews and will write a blog on the outcome of this once the results have been obtained….
Sources of Information and More Information for you Regarding Removing Google Places Negative Reviews
Advice on How to Respond to Reviews
Google Content Policy for Writing Reviews and also Reviews that will be Removed due to Content Policy Violation
Flag a Negative Google+ Review for Removal
https://support.google.com/business/answer/4596773?hl=en&ref_topic=6001257
General Google My Business Help Centre
If you have any additional information regarding Google My Business negative reviews I would gratefully appreciate if you could send that information on to me by emailing karen@throughtheranks.com.au.
If you are seeking SEO help for your local Brisbane service business you may wish to visit Through The Ranks home page to see the services that I provide.